While we are working on the new War Machine Mark I armor costume suit project, we never forget the EXO-7 Falcon suit project though three years have passed since we launched this project.
At first, we planned to build the EXO-7 Falcon suit according to the one debuted in Captain America: The Winter Soldier. As you can see in the photo we shot in Comiket 92 (2017, Tokyo Big Sight), we completed the prototype. The visual presentation is awesome.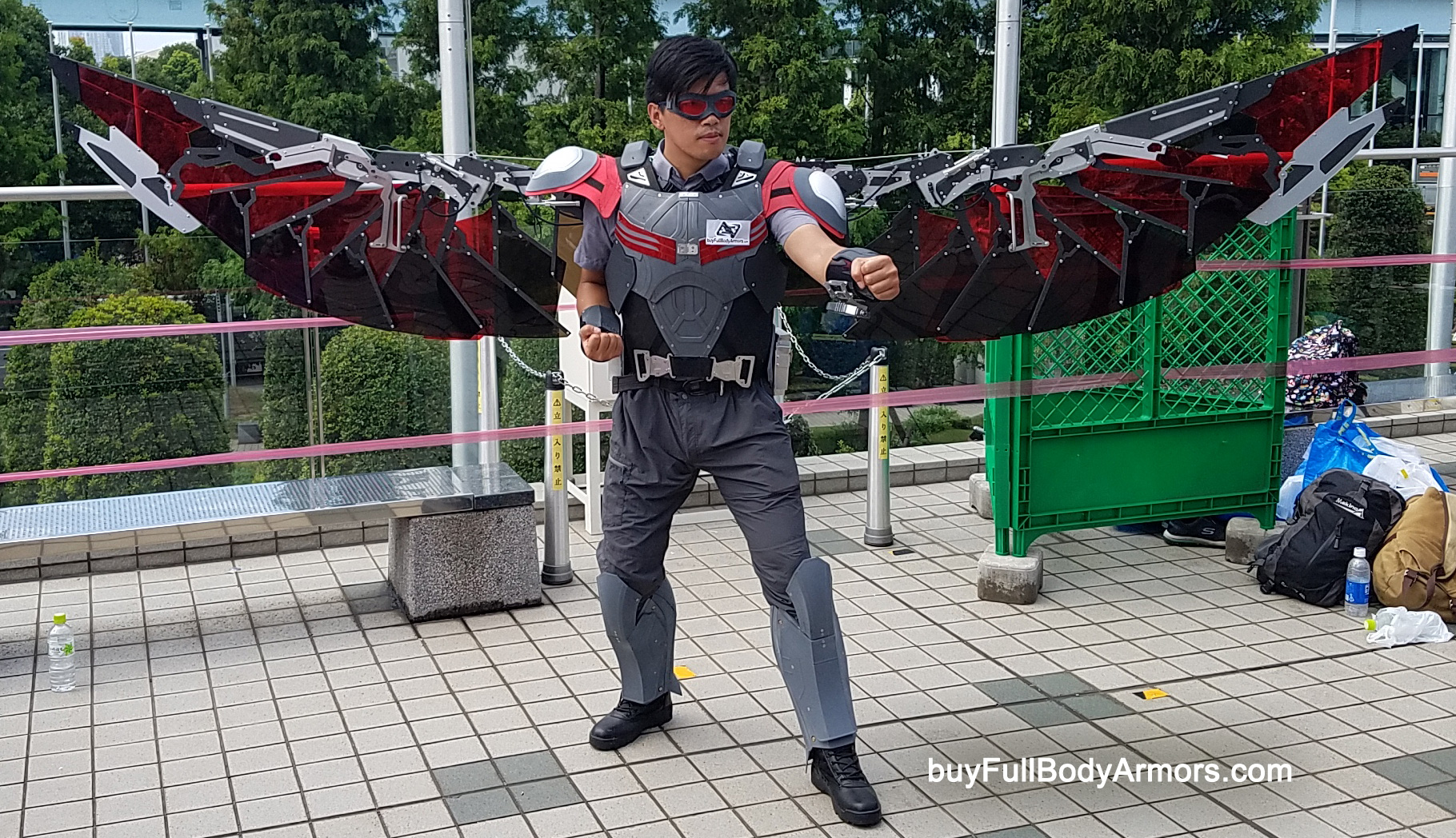 However, that falcon suit's wings were too heavy and only allowed up and down status change. My team and I unanimously agreed that it did not meet our standard of production. Therefore, we decided to temporarily put this project on hold and do some massive redesign in the future.
During the past three years, several new movies were released in which Sam Wilson piloted at least two versions of Falcon suits. We finally decided to build the Falcon suit in Ant-man and Captain America: Civil War. The suits in both films are almost exactly the same.
Our engineering team redesigned the key structure of the wing framework after they delivered the new War Machine Mark I design to our prototype team. The new structure is significantly lighter and sophisticated than the old prototype and allows more exciting features including forward and backward status change, and motorized or manual joint lock. These new features allow the wearer to realize some very awesome pose in the movies, e.g. holding the wings in front of the body to protect the wearer.
&nbsp
WHO WILL DESIGN AND BUILD ARMOR COSTUMES FOR YOU?
designers, engineers and craftsmen
Our mission is to design and produce high quality cutting-edge armor costumes inspired from famous comics, movies and games.
From our point of view, building Cosplay costumes, especially armor costumes, must achieve two key goals. One, it must bring fantasy to real world, so we try our best making them ultra-realistic and movie-accurate using cutting-edge 3D modeling software, advanced 3D printing technology and consecutive-number-controlled (CNC) machining center. Two, they also have to be durable, so we try our best to build them to survive as many wears as possible with minimal maintenance by continuously upgrading the design and producing methodology and material from EVA foam cutting and gluing to high-strength PU molding and assembling.