Email us to buy
administrator@buyfullbodyarmors.com
Please tell us your add-on choice and your preferred number of payments. We will do the math. Then we will send you the invoice for payment.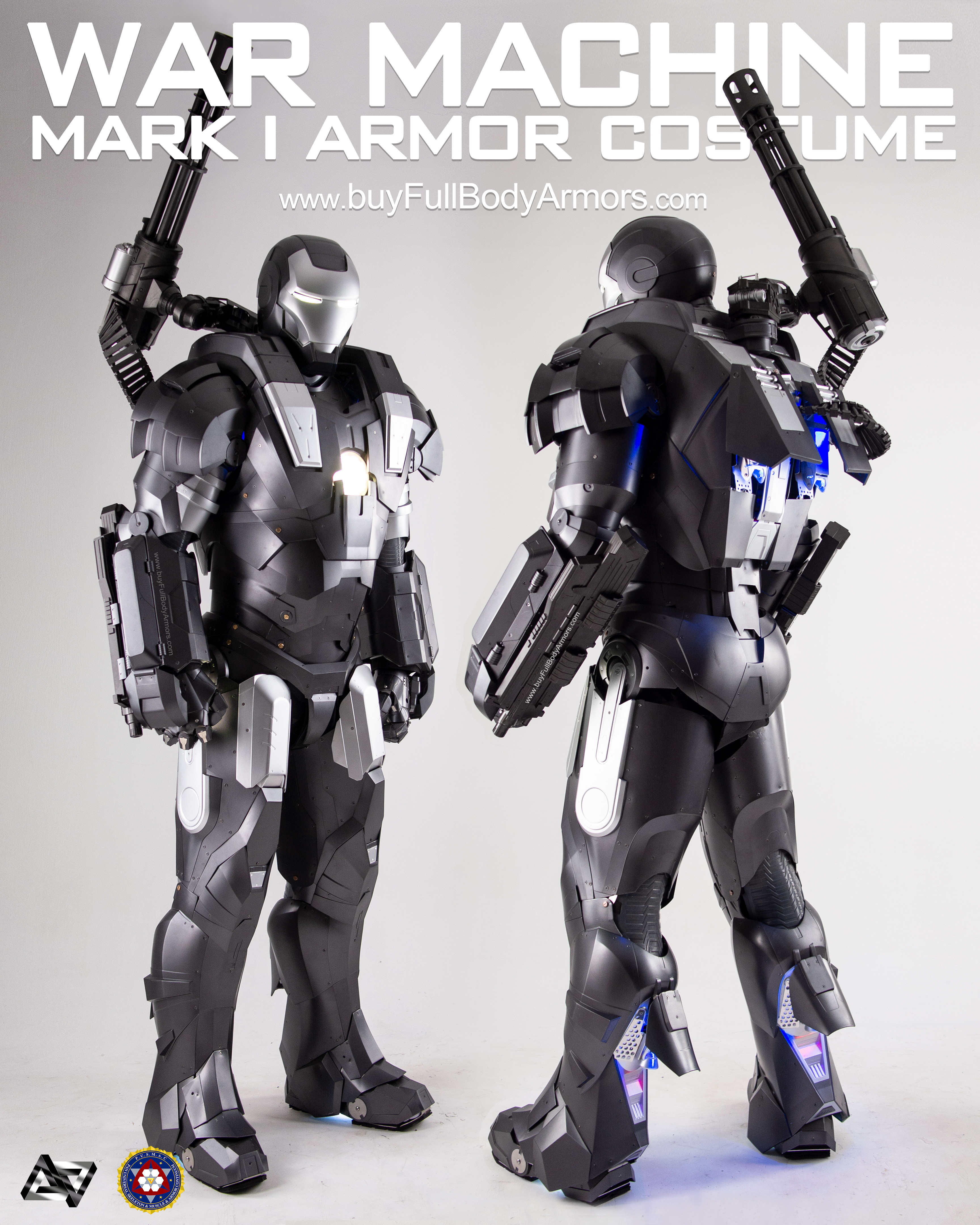 1:1 life-size wearable War Machine Mark I (1) suit costume. Made-to-measure and custom-made according to your add-on requirement.
Details & Dimensions
Suit material: Polyurethane (PU) Plastic, ABS Plastic, aluminum alloy framework
Wearing system material: nylon belts, nylon plugs, Velcro hooks, and loops
Painting: primer, color paint, high-gloss protection paint
Suit size: wearable 1:1 life-size, made to measure
Suit weight: around 49.6 lbs (18 kg), varies depending on your add-ons and accessories choice
Shipping size: approximate Height: 20.1" (51 cm) | Width: 45.3" (115 cm) | Depth: 22" (56 cm), varies depending on your measurements
Shipping weight: approximate 86 lbs (39 kg), varies depending on your add-ons and accessories choice
Shipping
Ships to North America

599 USD

by DHL Air Express
Ships to Other countries and regions

from 699 USD to 849 USD

by DHL Air Express
Delivery
North America, most of the European countries: 2 to 4 working days by DHL
South America, Australia, Asia, Africa, other countries and regions: 4 to 6 working days by DHL
Price List
Basic War Machine Mark I (1) armor (with no add-ons nor accessories),

7,999 USD

Motorized face plate and red eye lights,

249 USD

Ultra-refined red chest Arc Reactor light and system core,

349 USD

Ultra-refined hand Repulsors lights with sound effect and vibration,

349 USD

Spandex body suit + Height-increasing shoe insoles,

199 USD

Voice command control and voice changer,

299 USD

Joints' sound effects,

199 USD

M134 Mini-gun with sound effects (motorized, standing by status, combat status),

1,399 USD

Motorized forearm Machine gun with sound effects on both forearms,

999 USD

Motorized back wing flaps with sound effects,

699 USD

Carbon Dioxide (CO2) propulsion simulators (must have the motorized back wing flaps),

499 USD

The Ex-Wife with sound effects in left shoulder cabin,

999 USD

Micro-Missile array with sound effects in right shoulder cabin,

399 USD

Shin back wing flaps with sound effects,

599 USD

Ultra-refined shoe bottom Repulsors with walking sound effects,

299 USD

Ventilation cooling system,

99 USD
All add-ons TOP package 14,999 USD (Original total 15,634 USD, save 635 USD)
Painting and Customization
Punishier painting & customization,

1,099 USD

Custom painting,

start from 999 USD

Personalized printing (words, logo),

299 USD

Name plate,

99 USD
Turn Your Wearable Armor to a Motorized Statue
Standard UAAS stand (black), External power supply, remote control,

649 USD
We may charge an oversize fee depending on your measurements.
Videos:
< a href=" " style=" background:#FFFFFF; line-height:0; padding:0 0; text-align:center; text-decoration:none; width:100%;" target="_blank"> a>
Photos: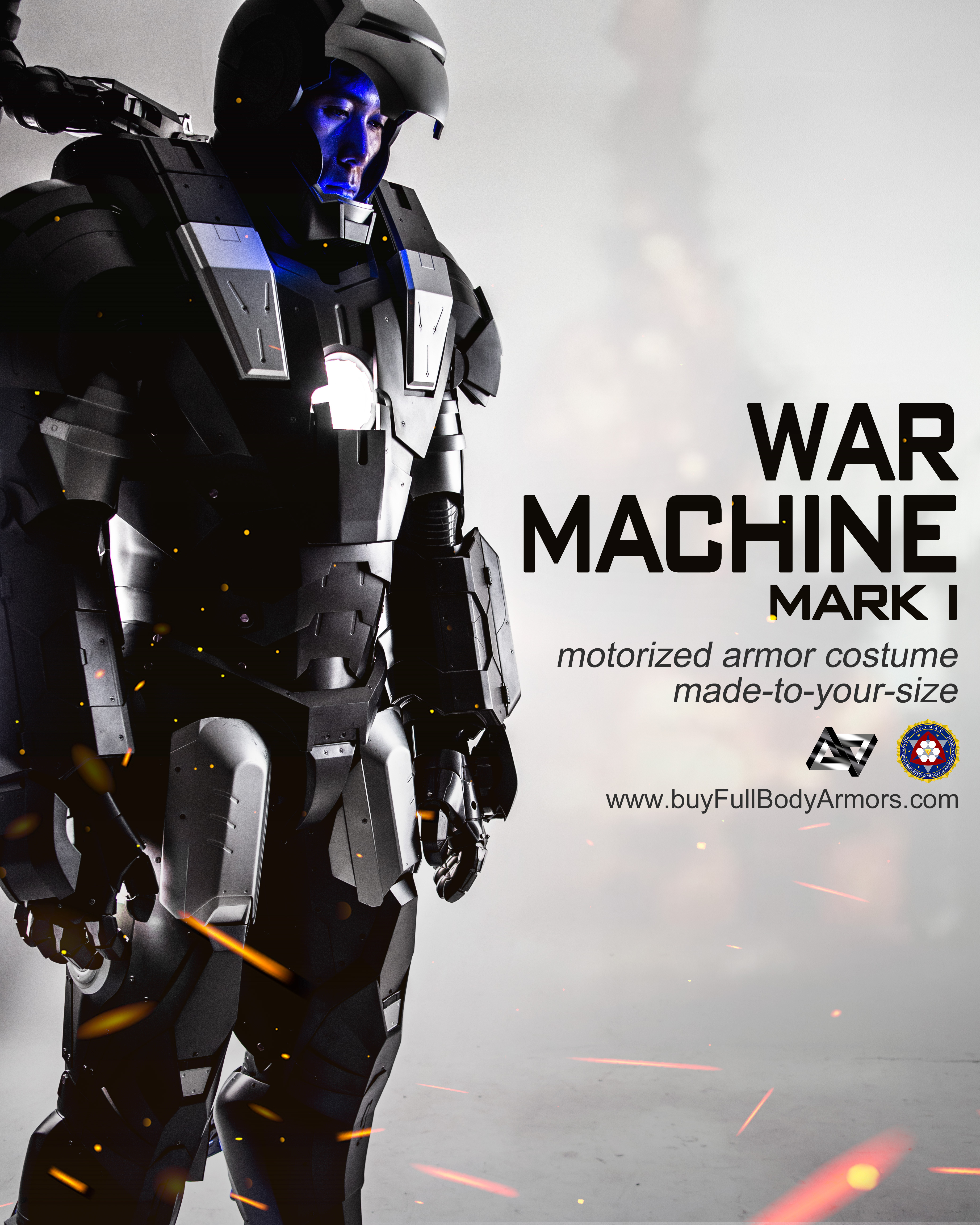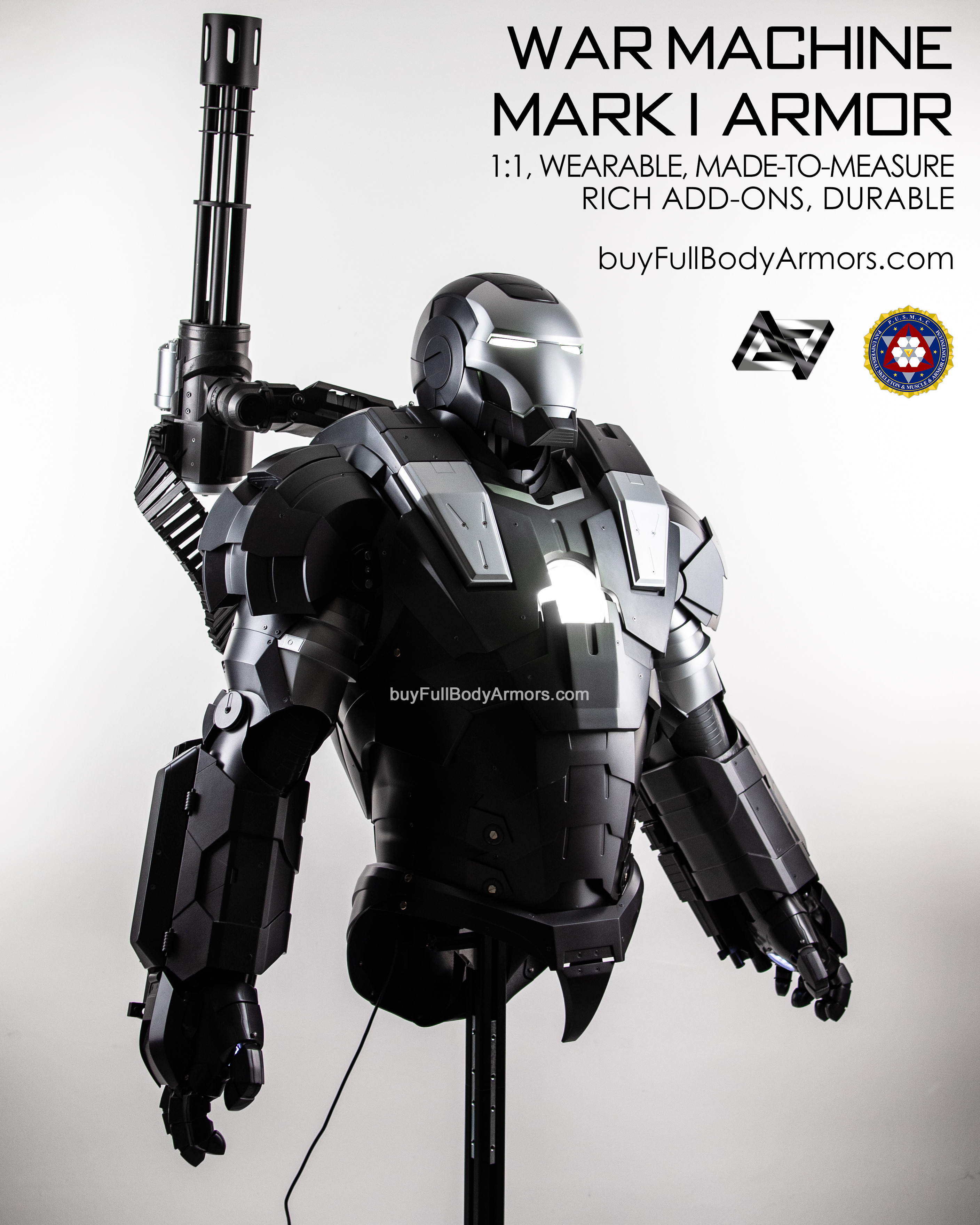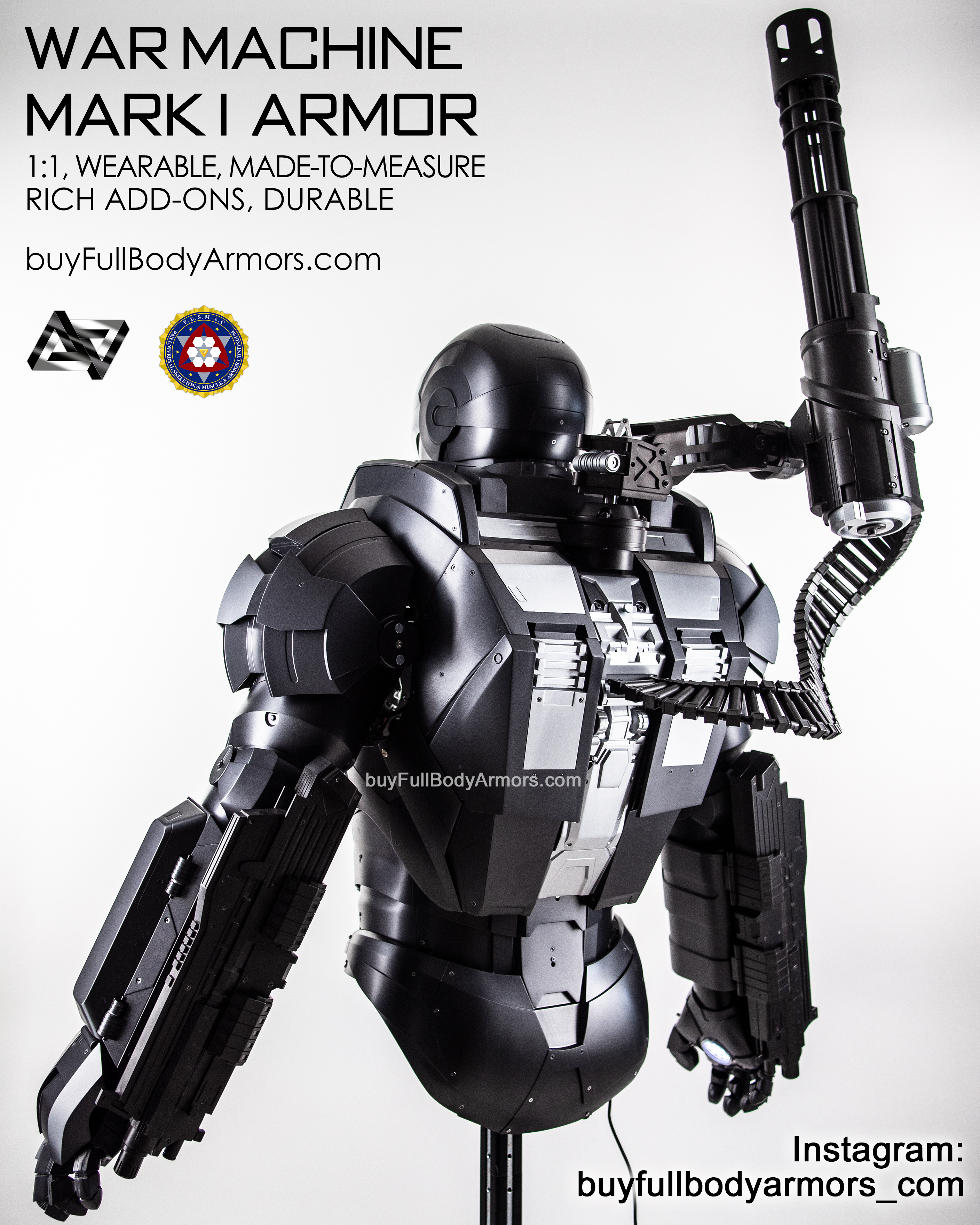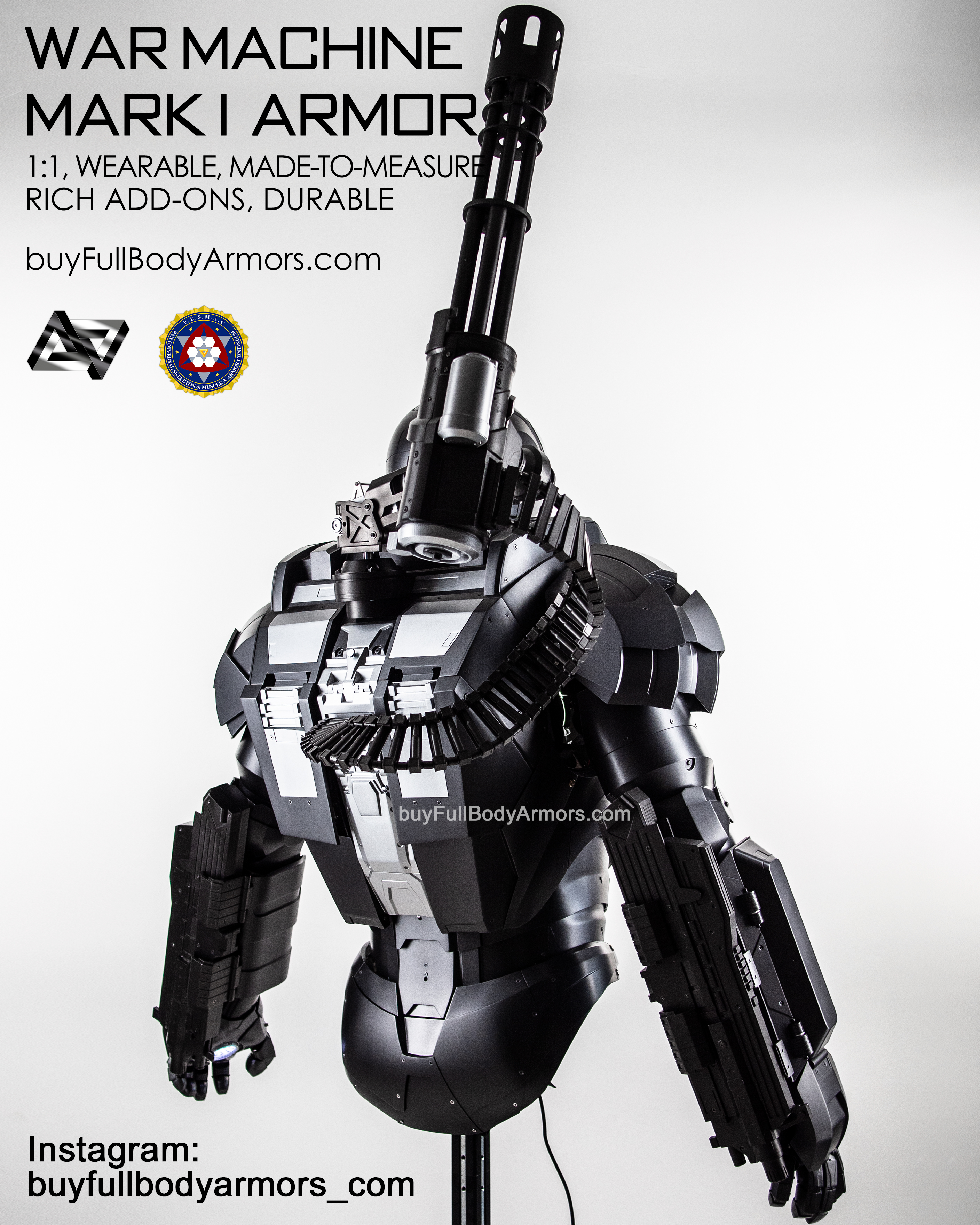 Wearing System
Generally speaking, after you get familiar with the structure, you will only need about 30 minutes to put on the suit.
Important: You are not able to wear the suit by yourself without any help from at least one assistant.
The suit can be divided into the following wearing units (sorted by wearing sequence):
thighs & legs
shoes
belly & crotch
helmet & neck
chest & back
arms
gauntlets (hands)
In the Movie:
The War Machine Armor was first built by Tony Stark and then rebuilt from the original Mark armor II by the Hammer Industries. The War Machine Armor has a dark metallic and silver color plating on its overall armor design. Since it was formerly the Mark II, only transformed by being weaponized and customized, it retains all the signature features of the Iron Man armor and is only bulkier and heavier in appearance. The armor is equipped with a bunch of powerful weapons, including its iconic M134 mini-gun attached to the left, two large shoulder packs carrying an Ex-wife missile inside of them, and bulky forearm packs each mounted with a machine gun. The armor has a pair of large jet backpacks to give enhanced flying power to complement the significantly increased weight of the armor and weapons.
The War Machine Armor made its debut in the movie Iron Man 2 when it was presented at the Stark Expo, piloted by Lieutenant Colonel James Rhodes, as a part of a new military team held for the U.S. Military along with the Hammer Drones.
History
(cited from Wikia)
During the night at Tony's Birthday Party, he goes drunk while wearing the Mark IV Iron Man armor, which enrages his best friend Rhodey. When Pepper fails to stop Tony from being reckless in his drunken state, Rhodey, knowing that there was no other choice, heads down to the garage and dons the Mark II from the Hall of Armors. Tony and Rhodey battle to a stalemate when they fire their repulsors at each other, creating a massive explosion. Disgusted, Rhodey delivers the Mark II to the military and it is rebuilt by Hammer Industries into the War Machine.
The War Machine, with Rhodey still as its pilot, is unveiled at the Stark Expo along with the Hammer Drones. Tony arrives in the new Mark VI armor and tries to warn Rhodey, but he is uninterested until Vanko takes control of the drones and the War Machine armor and uses them to attack. War Machine and Iron Man battle each other while Tony tries to stop the drones at the same time. Eventually, Natasha Romanoff restored control of War Machine to Rhodey and together he and Tony took out the remaining Hammer Drones. They then had to face Vanko himself in a powerful suit of armor and were unable to defeat him even working together. Remembering their earlier fight, Tony has Rhodey fire the War Machine's repulsor at the Mark VI at the same time Tony fires at him, causing an explosion in front of Vanko, destroying his suit and defeating him. Vanko self-destructs himself and his drones, but both Iron Man and War Machine escape. Rhodey later finds Tony and Pepper kissing and Tony demands the return of the armor but Rhodey refuses, citing that his car was destroyed in the battle. Rhodey then flies off in War Machine.
&nbsp
WHO WILL DESIGN AND BUILD ARMOR COSTUMES FOR YOU?
designers, engineers and craftsmen
Our mission is to design and produce high quality cutting-edge armor costumes inspired from famous comics, movies and games.
From our point of view, building Cosplay costumes, especially armor costumes, must achieve two key goals. One, it must bring fantasy to real world, so we try our best making them ultra-realistic and movie-accurate using cutting-edge 3D modeling software, advanced 3D printing technology and consecutive-number-controlled (CNC) machining center. Two, they also have to be durable, so we try our best to build them to survive as many wears as possible with minimal maintenance by continuously upgrading the design and producing methodology and material from EVA foam cutting and gluing to high-strength PU molding and assembling.