Buy Iron Man Costume Suits! Ultra realistic wearable IRON MAN costume suit armor replica for sale
Want to get your own Iron Man suit? Want to make a big hit in any party in the town? See our life-size ultra realistic wearable Iron Man suit for sale now!
We will increase the price of all our Iron Man suits two times after 1st August 2014. The price will be restored on 1st November. The details are as following. READ MORE >
We just released some photos of our new products Wearable Iron Man costume suits Mark 4.
READ MORE >
We just released a detailed video to explain all our electronic add-ons, including all the basic add-ons which are compatible to all our current Iron man costume suits and all the future ones and advanced electronic add-ons which are now only compatible to the Mark 4 suit and the Mark 6 suit.
Now enjoy the video please.
the Basic and the Extra Add-ons of the wearable Iron Man Costume Suits Mark 4 and Mark 6
Yesterday, we released a new product, the wearable Iron Man costume suit Mark 4 which has the classical round Arc Reactor in its chest armor.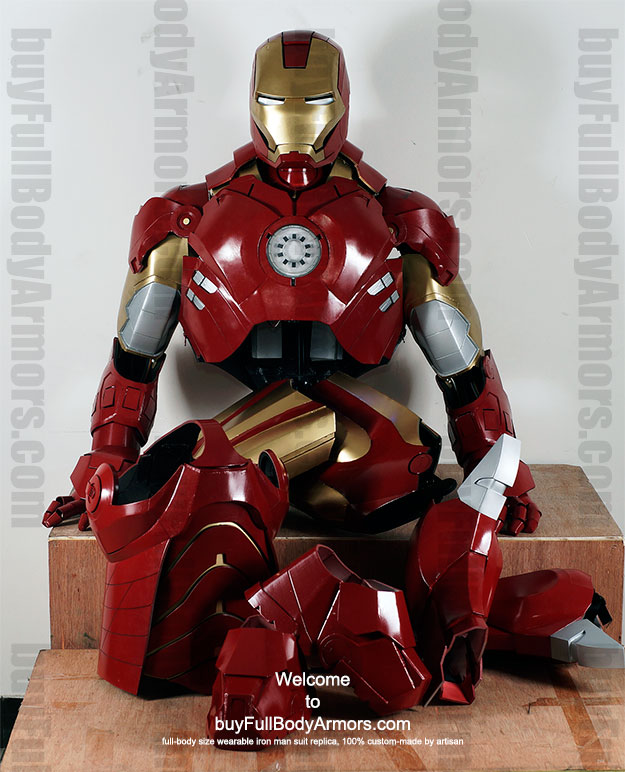 Wearable Iron Man Costume Suit Mark4 Mark6 Interchangeable Chest
At the same time, we released our first package product, the Mark 4 + Mark 6 SUPER DEAL, as we mentioned in the previous post that 90% components of the Mark 4 suit are the same as those of the Mark 6 suit therefore an interchangeable structure between these two Iron Man suits are designed and provided. View the deal now >>


Customer Reviews
The Iron Man Mark 42 armor suit I bought was an absolute success. I wore it to a local convention and received a million requests to take pictures with many people who were likewise impressed with the workmanship. I am so pleased I am buying another!

- R. Mislan
Thanks James! I am so happy with the quality of the Iron Man Suit Mark 6! I highly recommend this to anyone looking for the most realistic suit. Fantastic customer service and fair pricing!

- Ed Pietrzak
You did an awesome job with the Iron Man suit. Everything came out perfect. Great job thanks!

- Ines Chaieb
Thanks again and best regards... The Iron Man suit was a great "hit" at my Company party... I am definitely a satisfied customer!

- David Youngdahi
Hi James, received the Mark 6 suit, looks awesome! Thanks!

- Eric Dale
Holy crap dude. Just received the Iron Man suit!! It looks amazing. Awesome job. Today is the best day of my life.

- ?????.